02/18/2021

"You keep telling yourself, 'Man, no more chances!'" she tells PEOPLE. "But you two keep letting that door stay cracked open"

Lily Rose is quite the singer.

The country star released her fan-favorite single "Villain" in December and the track landed the No. 1 spot on the iTunes all-genre list, which ranked her above Taylor Swift for days. Since its debut, the song has already garnered more than 18 million streams worldwide.

Now, Rose is back with an all-new acoustic version of her previously released track "Better Than That." PEOPLE has the exclusive first look at the intimate performance.

"'Better Than That' is about that one relationship where you just can't seem to let them go," she tells PEOPLE of the relatable song. "You keep telling yourself, 'Man, no more chances!' But you two keep letting that door stay cracked open."

The talented vocalist also opens up to PEOPLE about how incredible it is to see such success with her latest tunes. "[I'm] feeling super energized by it all," says Rose, who was just signed last month. "It's totally exhausting because we're still building the team, but I'm obviously super pumped!"

"Going to radio is an absolute dream come true," says the star of her accomplishment. "I've been such a fan of country radio since I can remember, so being able to finally be an artist connecting with fans in that space is insane!"

Rose also reveals the true meaning behind her hit "Villain."

"[It's] about when you come to the end of a relationship, sometimes one person tries to make it look like it was all 'your fault,' when really no one was in the wrong," she explains. "I think it's resonating with a lot of people currently because we've all been there. Sometimes, you just have to fall on your sword and take the higher road."

After such an amazing past few months, Rose is looking forward to the year ahead — and promises to continue making new music.

"I'm so ready for 2021 and getting out there again," she says. "Whether it's meeting fans or playing shows — I'm just excited to safely get back to it! Also, can't wait to give y'all some new music soon!"

Original article: https://people.com/country/lily-rose-delivers-acoustic-rendition-of-better-than-that/

Posted in News | Leave a comment 02/02/2021

Rising singer/songwriter Lily Rose is carving her own path to success and she's ready to make her mark on the country music genre.

Rose turned heads in late 2020 with her debut single, "Villain." After sharing a clip of the song, which she co-wrote with Mackenzie Carpenter and Kyle Clark, on TikTok, fans begged Rose to release the full track. The preview hit 1 million views in less than 24 hours and a subsequent clip reached the 1 million mark in just 13 hours.

After releasing "Villain" independently, it gained major traction on social, streaming and sales platforms. Upon its release, "Villain" shot to the top of the iTunes all-genre chart and stayed there for several weeks, even beating out Taylor Swift's latest releases for a number of days.

The instant success of the track garnered interest from Nashville record labels and within a  few weeks, Rose landed a joint-venture record deal with Big Loud Records, Back Blocks Music and Republic Records.

"To say I'm excited and humbled to be a part of the Big Loud/Republic family is an understatement. You move to Nashville to sign deals like this, make music videos like these, and write the best songs possible," the Georgia native shared when her label deal was announced. "Hell, we're just getting started."

While it may seem like she's on the fast track to the top, Rose has actually been working at this for over a decade. Now, with a team behind her, she's focused on writing the best songs and hopefully bringing "Villain" to country radio.

We recently caught up with Lily Rose to chat about her viral success, the story behind "Villain" and more. Check out our exclusive Q&A below.

What inspired you to pursue a career in country music?

The songwriting, hands down. Since I got my driver's license at 16 and started listening to country music, I've been sonically drawn to the format as a consumer. But the commercial songwriting and storytelling are what made me want to pursue an artist and songwriting career in country music.

Who are some of your biggest influences?

Bruce Springsteen's energy and storytelling, Maren Morris' truth, and Sam Hunt's swag.

What led you to decide to share your music on TikTok?

I saw friends of mine who had had success getting label attention, so I got on towards the end of October after NOT getting on for months. The music started connecting slowly, but it wasn't until "Villain" that we really saw traction and connectivity.

Can you share the story behind "Villain?"

I think we've all been in relationships – not just romantic, but all types of relationships- where you think something ends cordially/amicably and then the other person decides to trash your reputation as a result. Villain is about "making yourself the bad guy if you NEED one" and taking the high road every single time until the truth is finally revealed.

What was your reaction to the overwhelming response the song is receiving?

I'm energized and humbled by it! I'm seriously so overwhelmed with gratitude and fired up to get some more music out there.

It seems as if you had overnight success, but I'm guessing that's not the case. What were you doing before "Villain" gained traction?

Man- I've been working at this for 13 years. I've been writing songs since I was 15, and professionally chasing the artist thing down for 8 years. I've worked 10+ part-time jobs, routed my own tours and written songs hoping that one day I could sign a record deal.

I love how honest and open you are on Instagram. Is that important to you, to be like an open book to your followers?

Authenticity is the most important thing to me and my career. Songs are second, but as long as I'm always open and honest, my fans will hopefully continue to respect me and grow.

What are some things on your artist "bucket list?"

I cannot wait to get on the road again to tour. I would love to be a part of an arena or stadium tour within the next few years, as well as put out a killer record. Awards are nice too!

Aside from music, what are some of your hobbies?

Sports! My girlfriend wants to kill me sometimes with the amount of football and hockey I watch. We love going out with friends and eating/drinking around Nashville! I also love working out, it's something I have to do daily to stay sane.

What's next for you?

Hopefully some new music soon! The music video just dropped, and I can't wait to do some more of those, too. Once we can safely tour again, that will be at the top of my list as well!

Fans can keep up with Lily Rose on Instagram.

Original article: https://www.countrynow.com/energized-and-humbled-by-the-success-of-villain-lily-rose-says-shes-just-getting-started/

Posted in News | Leave a comment 01/25/2021

The Big Loud/Republic Records team, which currently has what is far and away the biggest album in the country with Morgan Wallen's "Dangerous: The Double Album," is celebrating that success by joining with Back Blocks in signing Lily Rose, the partnership's first shot at breaking a female artist in country music.

But in a very real sense, Rose has already "broken" herself, if radio play isn't the sole metric: Her song "Villain" became a TikTok sensation before it was ever officially out as a single. When it was released Dec. 15 on the independent Back Blocks label, it debuted at No. 1 on iTunes' all-genre chart and spent several weeks on and off at the top there, topping the Christmas-song competition for most of the month. (Needless to say, if it was topping the overall chart, it was also No. 1 at country as well.) Big Loud took the lead in an aggressive competition among Nashville's major labels over the holiday season for Rose's services.

Rose is planning sessions with some of Music Row's top writers to come up with additional material for what will be her debut album, but in the meantime, today she's releasing the music video for "Villain" (below).

With the ink still drying on her contract, Variety spoke with Rose about why she went with this label team, and become as close a thing as there is to a real overnight sensation after a good number of years of going at it in her native Atlanta and eventually Nashville.

With presumably a lot of labels taking interest in you, what was attractive about this deal?

ROSE: After signing the single deal with Back Blocks Music and Rakiyah Marshall, when the song was just hanging out at No. 1 on iTunes for so long, we knew that the label deals were going to be starting to roll in, and we had 'em all slotted, and it was kind of just that feeling of looking for my champions. The money was not something super, super important to me, or the legacy; it was finding the right champion and the right family. I felt that off right off the bat with Big Loud, and then immediately Seth (England) brought in Monte and Avery (Lipman) and Republic, and there was a mutual want for each other, even through the holidays. They really fought for me, and I was very thrilled, because Big Loud has been my dream label since I moved here four years ago.

Why was it your dream label?

I mean, they've only been around for five years, but their ability to break artists, first of all — and they haven't gotten to break a female yet. And I'm very competitive, and I like to be the first in a lot of things, and I think I'm going to have the opportunity to get that. And they've got Morgan and Hardy and so many artists that they've just kind of let them be them. The authenticity is first and the songs are second, and those are my one and two that I hold true to in my career as well. So I was very drawn to that.

Even through COVID and Zooms and everything, it was a no-excuses situation with Seth where it was "We have no reason not to have everybody on a Zoom call with her on Dec. 23 and lawyers negotiating on Christmas Day." And then he brought in Monte and Avery soon after. He also had all of the teams on every single Zoom, too — not just A&R but marketing and all of the VPs on the ground. Those were the only VPs I've met in town. Everybody else, it was just the A&R team.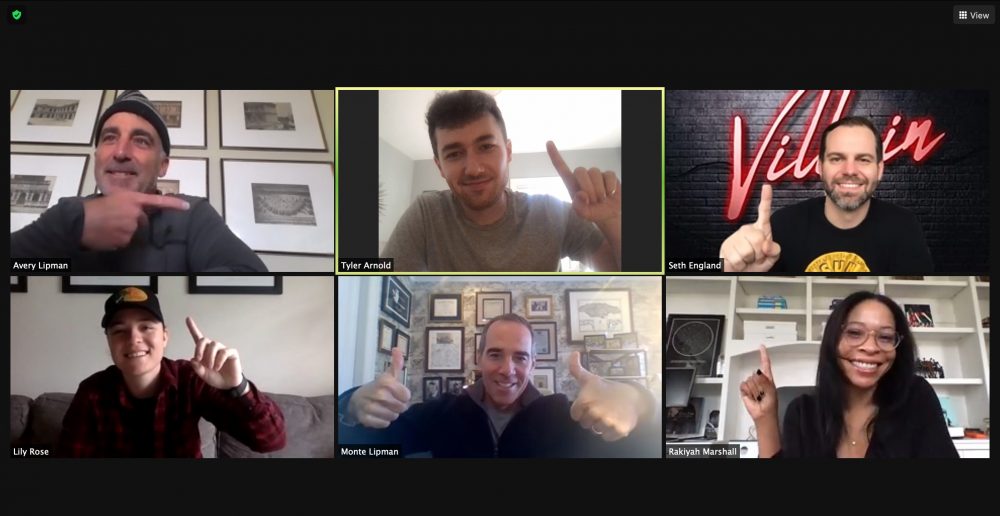 Top Row: Avery Lipman (Co-founder/president, Republic Records), Tyler Arnold (EVP A&R, Republic Records), Seth England (CEO, Big Loud) Bottom Row: Lily Rose, Monte Lipman (Co-founder/CEO, Republic Records), Rakiyah Marshall (CEO, Back Blocks Music). Courtesy Republic Records
Can you describe the timeline of December? It was a very short timeline with a lot of notches in it.
Timeline-wise, the song went viral on Dec. 1, and I decided the deal with Rakiyah and Back Blocks on the 2nd. And we were like, well, we've got to get this out (commercially) before Christmas. So Dec, 15 was the release date, but it was right around the 9th or 10th when the labels started rolling in. Our pre-save numbers were insane, and they couldn't see that, but I think they saw the traction. And we were very, very adamant that we were not taking a single meeting until the song was released. So on Wednesday, Dec. 16 through that Friday, I think we met with 13 different labels in three days. [Laughs.] Which is crazy.
I had three meetings with Big Loud between Dec. 16 and Dec. 23. That's how badly Seth and the whole entire team were like, "We don't care if we're with our families or anything. We will be on these Zoom calls, selling what we can do for you." And I was trying to keep my poker face on and my hand very close to me that they were my dream label, you know — it was a very mutual longing and want for each other.
We shot the video on Dec. 22. We have seen how these songs and these moments on TikTok or whatever can make something go viral and have a moment where you're like: "We need to capitalize on this as soon as possible, so when the new year rolls around and Morgan's stuff kind of evens out, we can release it and just have stuff ready to go."
When did you actually sign the deal?
It was Thursday, Jan, 7. The offer was all set on New Year's Day. But I've been working at this for 13 years, since I've been starting to write songs; it's eight years that I've really been chasing it professionally. And I expressed to Seth how important it was to me that, even if it was just me and him and Rakiyah in the photo, that (it was important) having that (signing) photo not (just be) on Zoom. I moved up here for this picture. And he got all the COVID testing and everything done so we could take that dream photo (below), so I'm super appreciative of that.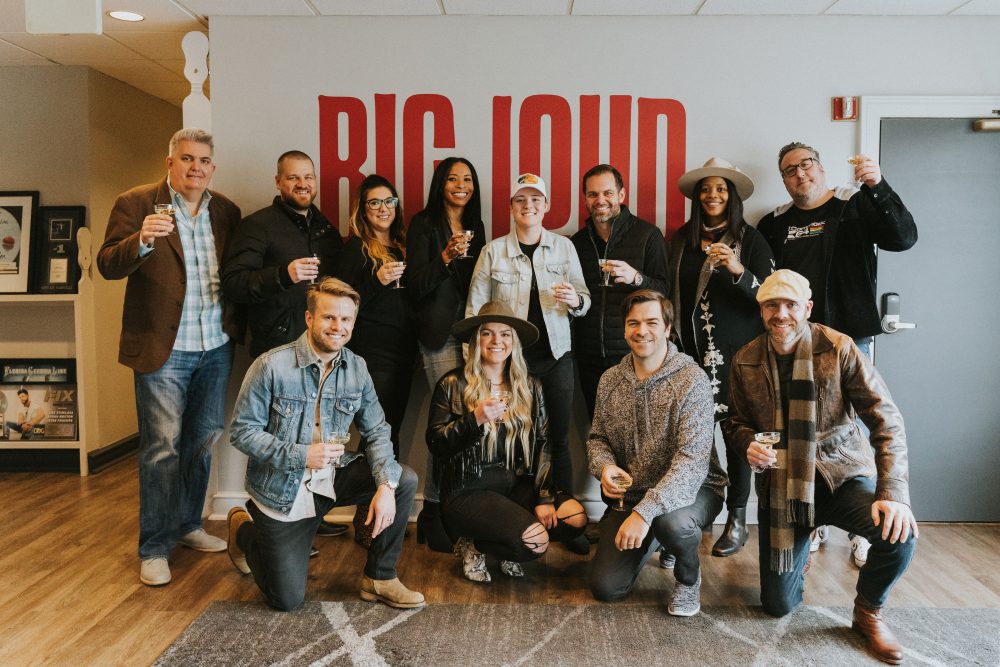 Back Row: Jeff Tanner (VP, Business Affairs, Big Loud), Matt Cottingham, (Ritholz Levy Fields LLP), Stacy Blythe (VP Promotion, Big Loud), Rakiyah Marshall (CEO, Back Blocks Music), Lily Rose, Seth England (CEO, Big Loud), Candice Watkins (VP Marketing, Big Loud), Joey Moi (Partner, Big Loud) Front Row: Paul Logan (VP Sync & Visual Strategy, Big Loud), Daira Eamon, Patch Culbertson (VP A&R, Big Loud), Austen Adams (COO, Big Loud). Credit: Chris Hornbuckle

That the song did what it did with no promotion speaks to the power one song can have.

Yeah, I mean, we all get into music to try to replicate the feelings and the sonic feelings that songs can do for us. You know, I went to my first Bruce Springsteen concert at 9 years old, and I've been trying to replicate that energy on stage ever since. But I think that the power of songs and truth and grit behind country music specifically is what makes this format so special, and it helped "Villain" just reach the top of so much content and so much talent these days that people connected with it.

Talk about the video, because there's a storyline to it, and you didn't go with the ins-and-outs-of-a relationship video, or just you singing alone by yourself.

Yeah. The coolest thing about TikTok and social media is the connection with fans. It lends a hand for them to be able to give their opinions, and when I read the comments about "Villain" and why people were connecting with it — first thought, you immediately go to the romantic relationship, or the detriment of a romantic relationship. But "Villain" also has just been tapping into this vein of friendships ending, or even mother-daughter relationships that are not doing well. There are just so many different things. So I was kind of like, you know what? If you listen to the lyrics of "Villain," I don't want to give any power to the ex, to the person we wrote the song about on the romantic side. So let's just do a video that essentially does not give any power to the people we wrote the song about.

How would you describe the story that's depicted in the video?

Oh man. It appears that a cop is going around looking for a bad guy and the (twist) is, I'm a dirty cop and I'm really just looking for the money. So the hero the entire time is actually the villain. It's kind of the antithesis of the actual lyric.

What happens from here?

One of the reasons I'm so excited already to be a part of this team is they just put out the biggest double album in country history and it's doing insane numbers, and they're still finding time to figure out my stuff. So I think the next chapter of all of this is we're gonna hopefully send it to radio. You know, that's a dream. And if the numbers can hold up, we can get an add date. And then also just finding more music. I'm writing like crazy right now, while also building a team and trying to find what the next single could be ' and what the next few singles could be — and also trying to form a record to eventually put out. I've been writing for so long with the same crew, and we have a lot of great songs that are up for debate. But I'm also meeting so many new writers on the Row and just trying to get me in as many rooms as possible, so we have as many songs to choose from as we can. We're in good hands.

Original article: https://variety.com/2021/music/news/lily-rose-signs-big-loud-republic-records-villain-video-1234891429/

Posted in News | Leave a comment 12/18/2020

Not everyone can say their newest single debuted atop iTunes all genre and country charts (and after only one day, at that), but country newcomer Lily Rose can, and it's a pinch-me-worthy truth.

The vibey, raw country track is "Villain," and the acoustic version is premiering exclusively on Taste of Country on Friday (Dec. 18).

Rose — a fresh face in the genre — surpassed A-list chart veterans Taylor Swift and Mariah Carey on the iTunes chart on her ascent.

Before her chart success, she found popularity on TikTok. She vowed to be authentically herself as she uploaded videos of her singing, and that clarity drew fans in. Though she's only been active on the app since October 2020, Rose has grown a loyal following, which yielded viral success. Two clips of her song "Villain" accumulated more than 4 million views and 2,000 shares on TikTok in less than a week.

Co-written with Kyle Clark and Mackenzie Carpenter, the relatable song encompasses being labeled the "bad guy" at the end of a relationship. At the time they penned "Villain," Rose was just a year out of a breakup. It's a theme they found common ground on — though all three writers are in healthy relationships now, they easily recalled the sting of former flames turned sour.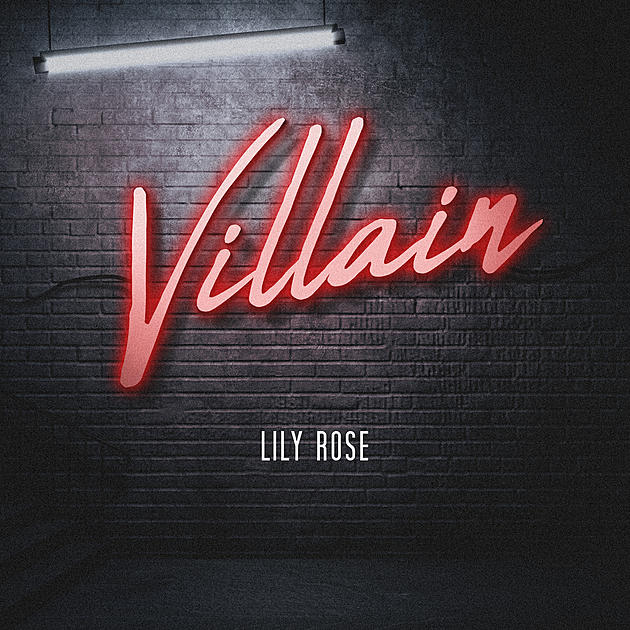 Courtesy: OH Creative

"Reputation was questioned, and things were put on the line," Rose tells Taste of Country. "We were all kinda like, 'Wow we've all been through that,' and we wrote this song in about an hour-and-a-half."

Rose best summarizes "Villain" as a "superhero, Marvel-meets-Sam Hunt, Keith Urban country" song. It was the romantic aspect that struck her, though.

"I never loved you / Found someone new, gave up too soon, but that's half the truth / One point of view."

"I feel like those are kind of the three main bullet points when you break up with somebody, if they're trying to taint your reputation," she explains. "Those are the things they go after and I feel like we really nailed that down."

Rose hopes listeners take away a bigger message.

"I have to make a conscious decision every day to take the high road, and truly what the song encapsulates. I think this song is a different kind of breakup song, because your reputation is the thing being questioned here, not you as partner or you as a future partner," she says. "Social media has turned into our 'small towns' — just knowing who you are and staying true to it."

The acoustic version of "Villain" is dear to her heart, because it's deeply rooted in what inspired her about country music. "I didn't grow up listening to country music," she says. "I fell in love with it when I finally got my own car. You finally get control of your own radio and I feel like that's when you come into your own."

Now living in Nashville, Rose always envisioned following a similar path to acts like Ben Rector and NeedtoBreathe, but country began calling her name.

"The acoustic version I love [because] it really shows off the country part of me, which a lot of the [Rose's songs] songs don't," she says. "They're really pop-driven with the country undertones."

For now, the singer is still wrapping her head around the magnitude of her song debut success, but tells Taste of Country she's excited to continue to craft new songs and hopefully keep up the momentum. Her goal: To help people with whatever they need to feel through her lyrics.

"Whether it's happiness, tears, empowerment, feeling seen, feeling heard … as long as we can reach as many people possible and make them feel the way that 'Villain' makes them feel or maybe the opposite felling of that, that's the goal."

The year may be drawing to an end, but it's just the beginning for Lily Rose.

Original article: https://tasteofcountry.com/lily-roses-villain-acoustic-video/

Posted in News | Leave a comment 12/17/2020

Lily Rose loves Taylor Swift.

Much like the rest of the world, the aspiring singer/songwriter has spent many a day falling into the honest lyrics of manty of the superstar's greatest hits, increasingly inspired by the collective nature of their truth and vulnerability.

Never did Rose envision a day they she would find her name next to Swift's name on the all-genre iTunes chart. But on a December morning in the pandemic-filled year of 2020, the two artists found themselves sitting alongside one another on the coveted chart, silently battling it out for the top spot.

Guess who came out on top.

In the early morning hours of December 15, Rose debuted at number one with her downright infectious new song "Villain." And while many may not know the name of the 27-year old with the ever-present baseball cap, hundreds of thousands of people now do thanks to the almighty and career-altering social media platform TikTok. And, once again, yet another artist has found a way to utilize an enormous, strong and loyal social media backing to ignite a firestorm of support for their music.

It's almost becoming commonplace.

"There was a time when the world didn't know the name Justin Bieber either," the singer/songwriter with the luscious yet gritty sound proclaims during an interview with American Songwriter. "This is not anything different."

Indeed, in the same way that Kane Brown mesmerized millions back in the day via covers he recorded in his bathroom and in the same way artists such as Andrew Jannakos, Priscilla Block and Robyn Ottolini scored record deals this year thanks to their insane social followings, Rose has now graced the country music genre with her presence, and if it's up to her, she's here to stay.

"It's been an interesting journey, so far, to say the least," explains Rose, seemingly sounding like she is suffering from an emotional whiplash as of late. "Everything happened in the span of seven weeks."

Sporting a name that seems custom made for a country starlet, and yes, it's her real name, there is no doubt that Rose shines differently than perhaps any other country artist out there today. She looks different and sounds different, she has a girlfriend she loves and fans she adores, and she has an identity all her own.

And that's what makes her and her story beautiful.

"I grew up in a household of performers," she reflects. "I have always had this attitude of 'this is me,' like it or not. There was no questioning of my identity."

A former high school basketball and soccer standout hailing from the great state of Georgia, Rose was raised by a radio executive father and a fitness buff mother. She attended college in Athens and studied communications, and in 2015, she moved to Nashville.

"I grew up in Atlanta and then I went to Athens and then I came to Nashville," says Rose, who was raised on the music of everyone from The Beach Boys to Bruce Springsteen. "Three southern hotbeds for music, and I have spent time in all of them."

Over the past six years, the no-nonsense artist has written over 200 songs and before the pandemic, had been booking just about 80-90 dates a year. But it wasn't until she shared a snippet of one particular song that her star began rising at warp speed.

That song is "Villain."

"Y'all let me know if this punches you in the gut," she said in a message to her TikTok followers on December 1, just two short months after joining the social media platform. "It's a good one."

Rose went to bed that night, and the video had 200K views.
She woke up the next day, and the video had 600K views.

"I knew something was happening," she remembers.

On December 3, she informed her TikTok followers that the snippet had hit 1M views and 1K shares in less than 24 hours.

"You guys blew this up the first time," she then told her TikTok viewers on December 5. "If you get a million again, I will release it."

The second video hit another 1M views in just 13 hours, and "Villian" was released.

"I wrote it last year with Kyle Clark and Mackenzie Carpenter, and it's essentially about being labeled as the bad guy in a relationship," says Rose. "I'm a concept person in the writing room. I look for the hooks, and with "Villain," it is that hook that sold me on the song."

You can be the hero,
I can take the fall,
If that's how your story goes,
say it's all my fault
I can be the villain."

In less than 48 hours from when the full song was released on all digital platforms, it was streamed over 250K times. Now, naysayers may say it was just a viral moment. Maybe Rose is just another one hit wonder. But something tells us that the sheer vulnerability of this artist paired with the rawness of her songwriting just might make her someone everyone will know come 2021.

"It's all about being transparent," she says. "When you do that, you build relationships and sometimes, relationships build hits."

Original article: https://americansongwriter.com/villain-lily-rose-song-feature/

Posted in News | Leave a comment